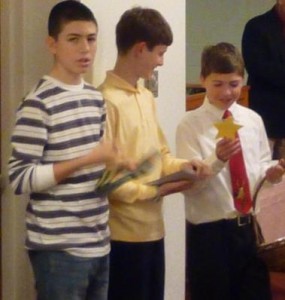 Youth
We have two youth groups. Our senior high youth group is for all high schoolers and meets twice a month for study, service and fun.
The highlight of our year is our annual mission trip that usually takes place in June. This year's mission trip was to Atlanta, Georgia where we worked with the homeless.
Our Junior high youth group meets twice a month for fun and service. They also go on a mission trip sometime during the summer. This summer they went to Topsail, North Carolina to help with needed home repairs.
Bring a friend! Our youth counselors are Lori Bocock and Graham Witt. Please email them with any questions at DUMCYouth@comcast.net
Fall 2016 Sunday School at Dayton United Methodist Church, Beginning September 11th
Suter Bible Class "
Half Truths" by Adam Hammilton
Youth and Children's Sunday School Classes:

Nursery
– Rooms 1 and 5
Early Elementary Class - Room 11 (PK and Kindergarten)
Middle Elementary Class - Room 14 (1st and 2nd Grades)
Older elementary Class - Room 12 (3rd, 4th, and 5th Grades)
Middle School Class - Room 13 (6th- 8th Grades)
High School Class - Room 3 (9th-12th Grades)
---
Children

On Sundays, we have Sunday School for children of all ages at 10:00 a.m. and children's choir TBA.. During the 11:00 a.m. service we have a special time with children called "Children's Chat" followed by the children heading to their own special Children's Church.
We also have Vacation Bible School, and other seasonal activities for our children. While we want our children to have fun, our primary goal is to make sure they are learning the Gospel and God's will for their lives.
Young Followers is our third through fifth grade fellowship group. They meet twice a month during the school year for fun and service right after the 11:00 a.m. worship service. This group also participates in worship by serving as acolytes and reading Scripture.